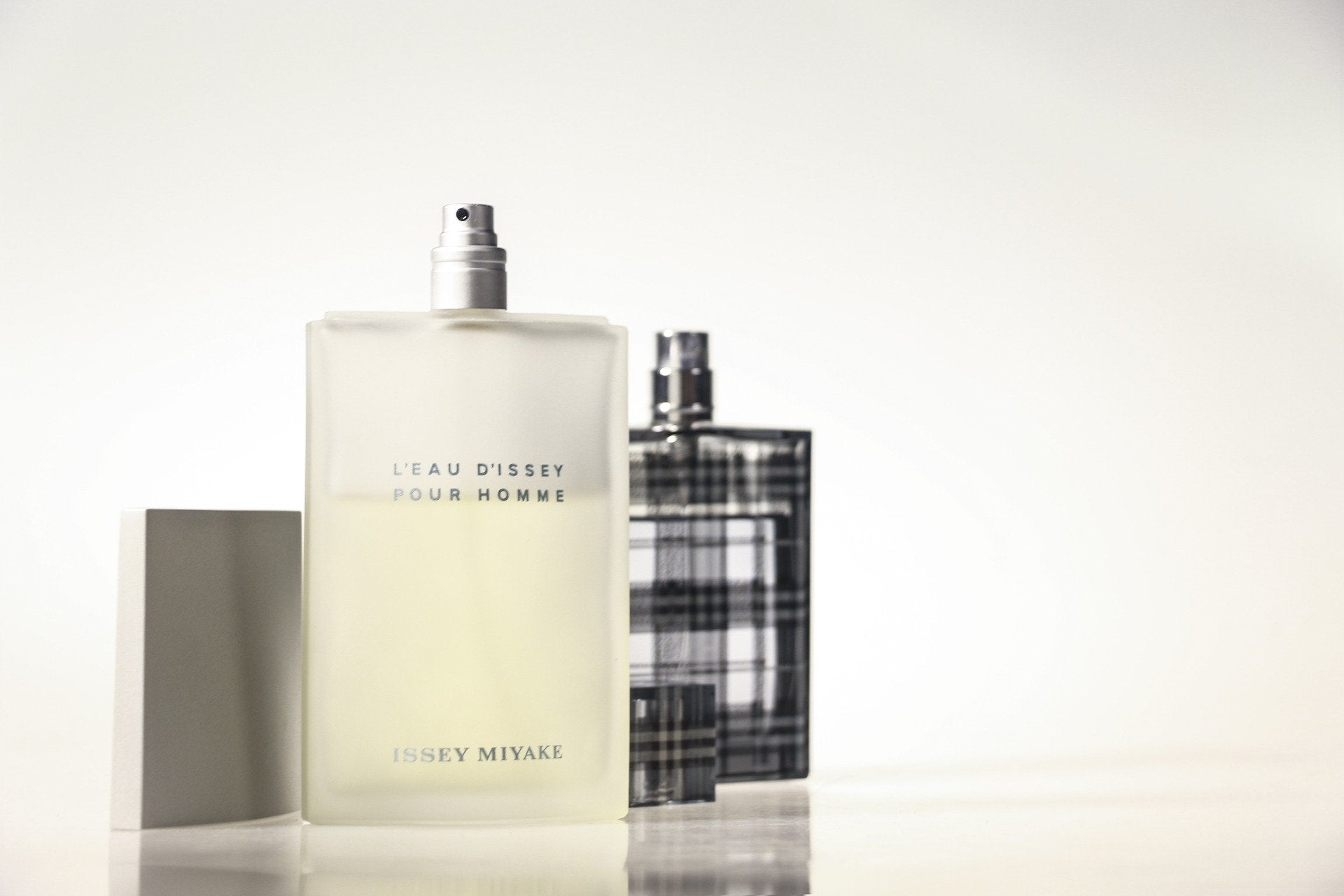 Men's Cologne: Which Brands Last the Longest?
The modern man faces a problem.
There are so many different men's fragrances that choosing one to wear as a signature scent can be challenging.
And what if you finally find that perfect fragrance, but the smell quickly fades away?
Nothing is as frustrating as a fragrance only lasting a few hours.
That's why finding a good cologne is only the first step. The next step is ensuring that it lasts as long as possible.
So, what are the longest lasting colognes for men?
We've rounded up some of the best fragrances with long-lasting effects to help you find a great men's cologne that won't wear off quickly.
Dior Sauvage Eau de Toilette
Versace Eros Eau de Toilette
Creed Aventus Eau de Parfum
Tom Ford Tobacco Vanille Eau de Parfum
Jean Paul Gaultier "Le Male" Eau de Toilette
Issey Miyake Pour Homme Eau de Toilette
Paco Rabanne 1 Million Eau de Toilette
Bleu de Chanel Eau de Parfum
All of the these remarkable colognes for men are incredibly long lasting, and will easily linger on the skin for the whole day with just a few sprays.
If you've become accustomed to cologne wearing off after an hour or two, then it's time to include one of these long lasting fragrances in your perfume collection.
1. Dior Sauvage Eau de Toilette
The Dior Sauvage fragrance collection is so iconic that almost every man (and woman!) finds it enticing.
The woody and floral tones make for a clean, fresh, refined, and a bit of rugged fragrance that's very intriguing. There is even a hint of some citrus notes in the scent.
Fragrance Performance & Longevity: 9 to 10 hours
The most popular formulation in the Sauvage lineup is Dior Sauvage Eau de Toilette which lasts 9 to 10 hours. More than strong enough to last all day.
But if you're looking for the absolute best performance, then the strongest concentration available is Dior Sauvage Parfum, which easily lasts more than 12 hours on the skin.
You will still sense a lingering of the base notes the following day.
This men's cologne is perfect for spring and summer evenings, but it may feel powerful on your skin in the colder weather too.
2. Versace Eros Eau de Toilette
Inspired by Greek mythology, Versace Eros Eau de Toilette has the power of unleashing passions and desires. Its sublime scent is perfect for strong, charismatic, and passionate men who know what they want.
Fragrance Performance & Longevity: 7 to 8 hours
The iconic fragrance is a known for its focus on classic citrus accords, but features an exciting mix of green apple, Italian lemon zest, vanilla, vetiver, tonka beans, oakmoss, and cedarwood.
It exudes a fresh smell that's vibrant, sensual, intense, and very masculine.
The bottle is features a chiselled appearance much like the statues of the Greek Gods is it inspired by.
Versace Eros might be slightly sweeter for your taste, but its luminous aura with a Mediterranean feel is something rarely anyone can resist.
It's great for the spring and summer, but the woody notes make it ideal for winter months as well. The incredibly longevity is an obvious added bonus.
3. Creed Aventus Eau de Parfum
The rich, bold, and luxurious smell of Creed Aventus make this men's cologne a classic that every guy should have.
It is widely considered amongst perfume experts to be one of the best long lasting scents for men. Just a few sprays will provide enough power for the scent to last well over 8 hours.
Fragrance Performance & Longevity: 8 to 10 hours, depending on batch
It is worth noting, that because of the complexity in which Creed Aventus is made, no two batches are ever the same.
The scent DNA of the perfume changes each time a new batch is made, and it is no secret that some batches of Creed Aventus perform better than others.
This is why loyal fans of Creed will often quote certain batch numbers as being 'god like'.
Inspired by success, power, and strength, this masculine fragrance focuses on woody notes of oakmoss complemented with Citrus, Italian Bergamot and Blackcurrant.
Creed Aventus top notes focus on beautiful Citrus accords, with Pineapple, Blackcurrant, Apple and Bergamot.
Creed Aventus finishes with base notes of leather, tonka bean, and ambroxan.
It is a beautiful summer or spring fragrance, but it works really well in autumn and winter too.
Seasons aside, Creed Aventus is perfect for any occasion. Wearing this fragrance is sure to attract compliments all day long from just about everyone you meet.
Aventus isn't cheap, with the price of a bottle ranging anywhere from $250 for the smallest size, all the way to over $1000 for the ultra-rare 750ml bottle sizes. Some batches are also more coveted than others, leading to a large fluctuation in prices on reseller sites.
4. Tom Ford Tobacco Vanille Eau de Parfum
Tobacco Vanille by Tom Ford is a truly masculine scent that instantly captures attention. If you love a good mix of oriental and spicy notes with a touch of sweetness, this men's cologne might be your way to go.
Fragrance Performance & Longevity: 16 hours or more
Woody notes and dried fruits dominate its base, while its top notes include tobacco leaves and rich spices complemented with tobacco blossom, cacao, tonka bean, and vanilla.
Thanks to its sweet feminine notes and masculine energy, this warm and enticing fragrance is unisex. Very strong and elegant, it's ideal for evenings in the cold winter months.
Tom Ford Tobacco Vanille is popular with men who want to feel masculine and sexy without being too overwhelming. This full-bodied fragrance lasts up to 16 hours, making this cologne one of the best in terms of longevity.
If you want the absolute best in terms of long lasting perfume, then Tom Ford Tobacco Vanille is the gold standard.
Unfortunately, this kind of quality & performance in a fragrance doesn't come cheap, with a bottle of Tobacco Vanille costing well over $300.
But if you are lucky enough to get your hands on a bottle, a few sprays on the pulse points is all you need for a long lasting scent.
5. Jean-Paul Gaultier "Le Male" Eau de Toilette
Jean-Paul Gaultier Le Male is another classic cologne for men that deserves recognition.
The bottle of is shaped like the torso of man, which is a physical representation of the original spirit of this cologne.
Fragrance Performance & Longevity: 7 to 8 hours
Jean-Paul Gaultier Le Male is a woody, musky fragrance. It is a blend of lavender and rosemary at the very top; this scent gives way to spicy, aquatic tones.
The aromatic herbs are what give this Jean Paul Gaultier fragrance its freshness and warmth in the dry down stage.
Its fresh and magnetic scent combines warmth and sweetness with masculine energy to give you the perfect men's cologne for hitting the clubs and dancing the night away.
Belonging to a Fougère fragrance family, it provides top notes of oakmoss, cedarwood, lavender, and tonka beans, blending them with cinnamon, cumin, orange blossom, and a touch of fresh mint and sensual vanilla.
A recipe for masculinity, indeed.
Wear the Le Male cologne in spring and summer, as it might smell slightly sweet for the winter months.
The price of Jean Paul Gaultier ranges between $175 and $150, depending on the size.
6. Issey Miyake L'Eau d'Issey Pour Homme Eau de Toilette
L'Eau d'Issey Pour Homme is a timeless, classic fragrance for men by the Japanese design house. Like every other Issey Miyake's perfume and men's cologne, this too is a unique fusion of unlikely ingredients.
Fragrance Performance & Longevity: 5 to 6 hours
It's a sophisticated fragrance of woody, floral, spicy, and citrusy notes, bringing together yuzu, bergamot, tarragon, lemon, nutmeg, Indian sandalwood, cedar, tobacco amber, vetiver, lotus, freesia, blue water lily, carnations, cyclamen, and a hint of musk.
Quite an exciting mix that you really can't imagine until you've smelled it.
And, boy, does it smell good!
Most men prefer wearing this cologne in spring and summer, but it's a year-round fragrance.
As with all the other long lasting scents on the list, just a few sprays on the pulse points is all you need to get the most out of the scent.
For the price, it's hard to beat the value offered by Issey Miyake L'Eau d'Issey. A bottle will cost you less than $70 for the 125ml size.
And to get a fragrance that will last all day at that price really is a bargain.
7. Paco Rabanne 1 Million Eau de Toilette
1 Million by Paco Rabanne is excellent for the modern gentleman looking for a rich and spicy fragrance for any occasion. It's ideal for autumn & winter wear, as it's inspired by the warmth of autumnal scents.
Fragrance Performance & Longevity: 8 to 10 hours
The fragrance notes of Paco Rabanne 1 Million are very well-blended. You can smell the fruit, mint, and spicy notes, well as leather, tobacco, cedar wood, musk & oakmoss.
When you smell it, you'll almost feel like you were sitting by a crackling fire at night with a glass of mulled wine during the festive season. It's truly one in a million.
8. Bleu de Chanel Eau de Toilette
Bleu de Chanel Eau de Toilette is perhaps the best-selling fragrance released by Chanel since Chanel Allure Homme. Since being released in 2010, it's become an instant classic.
Fragrance Performance & Longevity: 8 hours
The scent combines fresh top notes of bergamot, lemon, fruitiness of pomegranate and passion fruit. Heart notes are made up of dried fruits from Grasse and tobacco blossom.
The scent finishes with warm base notes of Leather, Amber, Vanilla, and Sandalwood which combine with an accord of Patchouli.
The other formulations in the Bleu de Chanel lineup include the higher concentration Eau de Parfum, and Parfum.
However, the performance of the Eau de Toilette does not vary much from the performance of these higher concentration editions.
Bleu de Chanel is perfect for the man who desires a scent that evokes the feeling of sophistication, elegance, and masculinity.
It is best worn in the fall and winter seasons. But just like Creed Aventus, it is a fragrance that is perfect to wear at every occasion.
Final Thoughts
And that wraps up our guide to the longest lasting cologne for men. We hope you know how long each will last, and which one of these long lasting fragrances is your best match.
No matter which fragrance you go with, you can be sure that each will offer you some of the longest lasting scents available for men.
Each one of them has become a classic on their own, all you need to decide on is which fragrance family suits you best.
Whether it be a citrus fragrance such as Creed Aventus, or something more sensual like Jean Paul Gaultier, there is something on this list for every cologne lover.
We offer these and many other men's colognes right here at myperfumeshop.com.au, so check our wide selection today and find your signature fragrance.
Guides
Perfumes are not inherently harmful, but they can be, depending on the area you are applying it to.
Read more