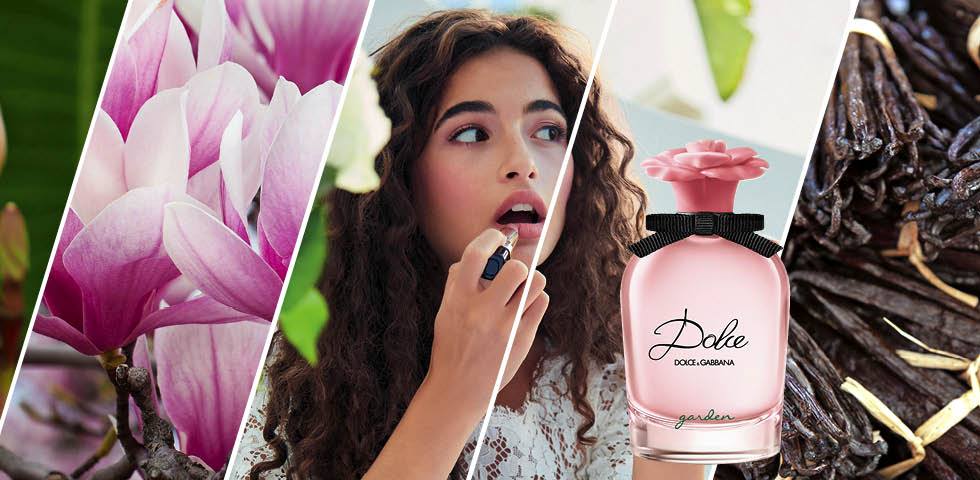 The Ultimate Review of Dolce Garden Eau de Parfum
Dolce Garden by Dolce & Gabbana is one of the newest perfumes released by this iconic brand. We breakdown what it is, what it smells like, and whether it's right for you.
Dolce & Gabbana Dolce Garden Eau de Parfum appeared at the beginning of 2018 and unlocks a new chapter in the story of Dolce, coming after the original from 2014, Dolce Floral Drops from 2015, and Dolce Rosa Excelsa from 2016. Dolce Garden is a floral-gourmand fragrance that is said to emit the pleasure of fun experiences. It is described as a fragrance of free thoughts and desires for fun experiences, inspired by shades of the gardens of Sicily in bloom.
Dolce Garden unwraps with White flowers, fresh and fruity notes (Mandarin, Magnolia and Neroli), stimulating Mediterranean sun. 
Dolce & Gabbana describe this fragrance as a delightful new flower blossoming in a Sicilian garden and a joyful, solar aura combining citrus and cream. Dolce Garden, Australia users may not know what a Sicilian garden looks like, but from the perfume, they can have a hint and sense of it's beauty.
The bottle of Dolce Garden is recognisable for the unique shape, thick glass, curved lines, and a cap sculpted in the shape of a flower, now in pink colour. The fragrance is available in 30, 50, and 75 ml. The perfumer behind this fragrance is Violaine Collas.
Released: 2018

Strength: A whole day

Main fragrance note: Mandarin, Magnolia Orange, Neroli

Perfumer: Violaine Collas 
What does it smell like?
When you first encountered this particular scent, you understood you had to own the bottle because the fragrance is very captivating, feminine, and different
Upon spraying the perfume, you inhale immediately a nice citrusy aroma. It is fresh citrus, slightly orange but not overwhelmingly so. There is a slight bitterness behind the citrus that is quite pleasant, very similar to the smell of peeling a mandarin. There is a slight green note behind the citrus, almost like the smell of crushed lime blossoms. Magnolia comes through in slight wafts.
After a few minutes, you can inhale an underlying creamy, sweetness. It combines nicely with the citrus and the notes of neroli. 
About thirty minutes later, the citrus and white florals have dissolved to a mere haze and a much more yellow aura comes through. Frangipani and Ylang Ylang begin to make their presence known and Creamy Coconut peaks through, letting you know that the sweetness was it all along.  The vanilla gets lost at times with the other notes, but it would be missed. Yellow Florals and Vanilla, and the combination here are just lovely.
At around an hour and a half mark, a milky, almond note begins to come through. It blends with the yellow florals, but somehow the fresh garden smells are really blending nicely with the gourmand essences. 
A few hours in, the perfume has settled down a bit but is still going pretty strong. Doesn't seem like it's going anywhere soon either, at this point, the Yellow notes, Coconut, Vanilla, and Almond have created this sweet, almost powdery creaminess that is just divine. The Dolce Garden Review shows that this fragrance  It's just delicious, lovely, and beautiful.
Fragrance Breakdown
| | |
| --- | --- |
| Top Notes | Juicy Mandarin, Bright Neroli and airy Magnolia |
| Heart Notes | Coconut Essence and Blossoming Frangipani petals |
| Base Notes | Silky Almond milk, enriched with Vanilla Absolute and Sandalwood |
How does it perform?
You will love the first few hours of this perfume,  honestly, the dry down is divine. A reviewer sprayed about 1.5 sprays per wrist and once on the shirt and the scent lasted for over 9 hours.  The smell on the shirt was still going strong though. It smelled like vanilla coconut almond milk after dry down.
 It works well on any type of skin, however, people with sensitive skin should make proper consultations before using it. It works on rough, dry, wet, normal, and combination skin.
Who is it for?
Dolce Garden by Dolce&Gabbana is a Floral Fruity Gourmand fragrance for women. It is ideal for the workplace, a date, or a social function. It can also be worn casually. It is a perfume that blends well with all seasons and events. This fragrance will be a great gift for Valentine's or birthdays to a lady. 
How to best wear it?
Dab or Rub on Skin
If you like to make your perfume more transparent, then try dabbing it onto your skin instead of spraying it. The neck and wrists are perfect spots for this type of application.
Spray-on Hair or Clothes
The warmer you get, the sooner your scent evaporates. So, if you care to get hot – attempt to apply perfume to your clothes or hair, instead of spraying it directly to your skin. Be cautious with fragile fabrics to avoid stains.
Add to Your Body Lotion
Improve the lifespan of your perfume by blending it with unscented covering lotion. Just add a few sprinkles to the cream in your hand, then apply to your body. You will smell lovely all day!
Take a Perfume Bath
What can be more gratifying than bathing in the perfume you love? Add like 2 drops of perfume or 3-4 sprays of Dolce Garden to a calm bath. It's a real treat!
Alternative Fragrances
1. Prada La Femme Intense Eau De Parfum for Women by Prada. La Femme is designed by Prada. It has a 30% match to the Dolce Garden. It was introduced in the year 2017. The fragrance Gender is Women's Fragrance. The Perfumer is created by Daniela Roche Andrier. 
2.
Elie Saab le Parfum in White Eau de Parfum
 is a Chypre Floral fragrance for women. Le Parfum in White was launched in 2011. The Elie Saab perfume brand is relatively new, as it was only launched in 2011. Le Parfum in White is announced as a chic and modern fragrance with a floral, slightly fruity, and Chypre character. Elie Saab described it as an "Addictive symphony of whites. The luminous union of orange blossom notes and white musk."
La Parfum Review made us conclude that Ellie Saab La Parfum which was the very first fragrance to be launched is one of the best and most loved perfumes. Composed by Francis Kurkdjian, this ultra-feminine perfume went through 279 trial versions before being released, and as a result, is incredibly well-balanced.
Final Thoughts
This perfume is so unique that is very hard to find a match for it that is above 50%. You just need to get this perfume only then do you understand what beauty lies in a fragrance bottle. It is highly recommended. Even if you don't typically enjoy sweet florals,  it is still worth checking this scent out. Dolce Garden review done by our team was pretty pleasantly surprised by it and was not expecting something like this from a designer.