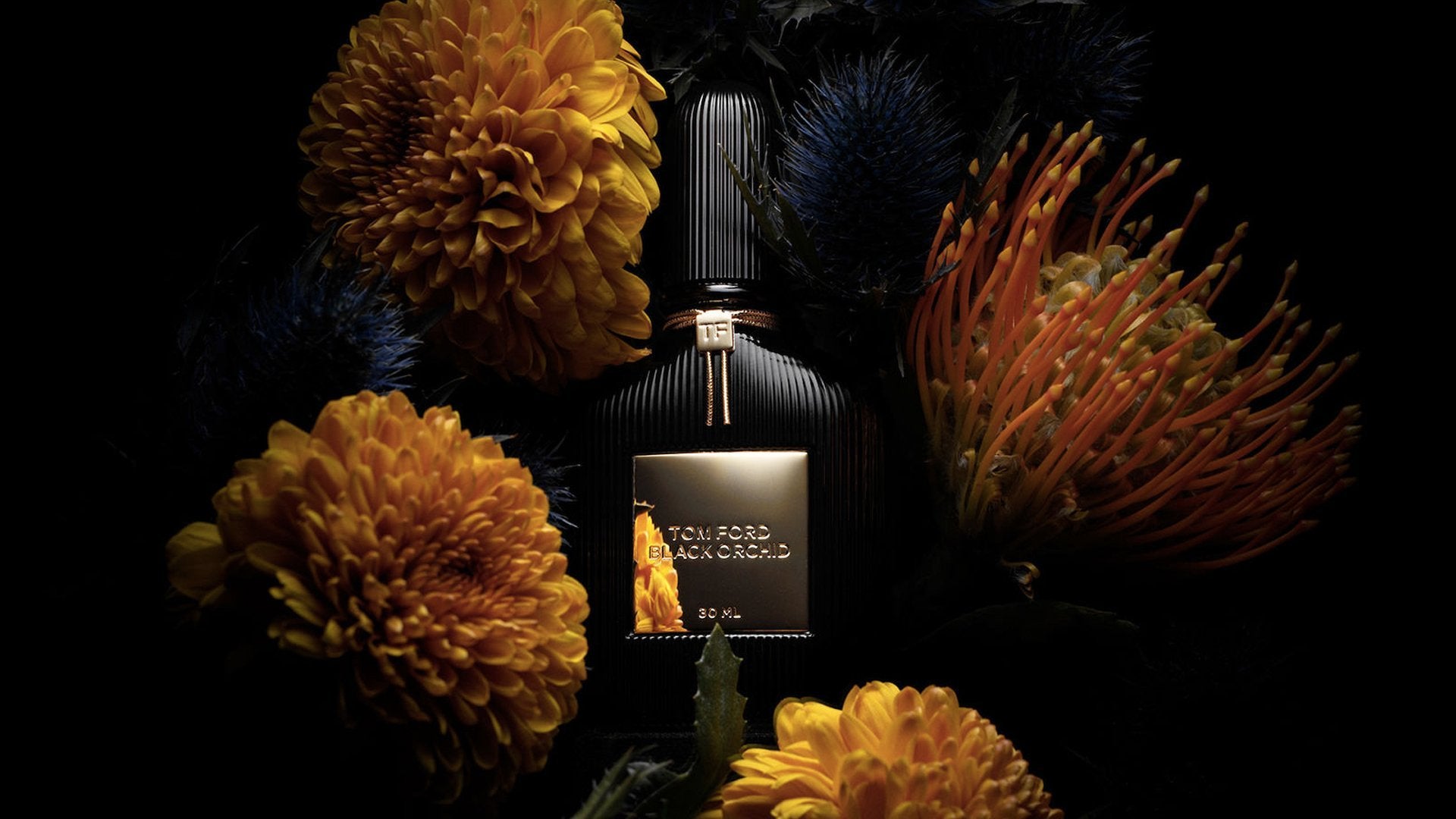 TOM FORD Velvet Orchid vs. Black Orchid: What's the Difference?
If you've already used any of Tom Ford's fragrances, you likely fell in love with them. Perhaps one of them is your signature scent that you have no intention of replacing.
But have you tried two of Tom Ford's most popular women's fragrances, the iconic Black Orchid, and the newer Velvet Orchid? We compared them to find out how they're different and help you choose the right one for you.
Check out this Tom Ford Black Orchid vs. Velvet Orchid table comparison before exploring all the features of each fragrance.
| | | |
| --- | --- | --- |
|   | Tom Ford Black Orchid |  Tom Ford Velvet Orchid |
| Release Date |  Launched in 2006 | Launched in 2014 |
| Gender |  Unisex | Feminine |
| Performance | Lasts for up to 14 hours | Lasts for up to 12 hours  |
| Key Notes | Spicy Floral and Fruity accords lavished with Woody scents  | Floral Scents enriched with Citrus, Honey, Vanilla, and Rum  |
Tom Ford Black Orchid vs. Velvet Orchid: Key Notes
Both the Black Orchid and Velvet Orchid are floral fragrances infused with fruity and woody notes. But although the Velvet version is based on the iconic Black Velvet scent, the two are quite different.
Let's go through all their unique notes to see why they are so alluring.
Tom Ford Black Orchid EDP
Tom Ford Black Orchid Eau de Parfum is a unisex fragrance with powerful masculine energy and a whiff of sweetness ideal for showing off your feminine side. It's rich, deep, heavy, dark, and designed for anyone with a strong personality who's looking to make a statement.
Fragrance Breakdown

| | |
| --- | --- |
|  Top Notes | Black Truffle, Ylang-Ylang, Blackcurrant, Bitter Orange, Lemon and Jasmine |
|  Heart  Notes  | Black Orchid, Lotus, Patchouli and Frankincense  |
|  Base Notes | Sandalwood, Amber, Vetiver, Balsam, Vanilla and Amber  |

The luxurious black orchid notes infused with dramatic florals, like the intoxicating lotus, and fresh, earthy undertones provide an otherworldly experience.
Related article: The Ultimate Review of Tom Ford Black Orchid
Add to that the tempting spicy notes and the enticing fruity accords, and you've got a sensual and mysterious blend that exudes glamour. It's a timeless, intriguing, and seductive fragrance that's truly like no other.
Black Orchid Fragrance Stages
As you spray Tom Ford's Black Orchid on your skin, you instantly notice the musky earthiness, black orchid, jasmine, and a hint of chocolate, incense, and patchouli.
As it starts drying down, the woody notes unfold and become more prominent, and you begin noticing black truffle and a touch of sweet and creamy vanilla.
As more time passes, the fruity notes start popping out, but the earthy ones begin pulling them back and fusing them with the florals and other musky, dark elements.
In the next several hours, the floral, earthy, and incense notes keep fading slowly, giving way to patchouli, vanilla, and chocolate.
The final scents that last until the end are the spicy patchouli, woody notes, and dark chocolate with a hint of florals and vanilla.
Tom Ford Velvet Orchid EDP
Tom Ford Velvet Orchid EDP is an ultra-feminine fragrance with all the recognizable Black Orchid elements, such as the dramatic jasmine, citrus notes, and the overall sensuous warmth.
Fragrance Breakdown

| | |
| --- | --- |
|  Top Notes | Honey, Rum, Bergamot and Mandarin Orange |
|  Heart  Notes  | Jasmine, Rose Oil, Orchid, Orange Blossom, Magnolia, Heliotrope and Narcissus |
|  Base Notes | Vanilla, Myrrh, Suede, Sandalwood, Labdanum and Balsam |

However, it reimagines the lush florals with more extravagant ingredients, enveloping the fragrance with freshness and the sweetness of honey and rum.
The oriental Velvet Orchid is sophisticated, harmonious, refined, luminous, warm, and inviting. It's a more refined version of Black Orchid that doesn't have any of its musky, dark tonalities. It's a gentle fragrance that should have a place in every woman's perfume collection.
Velvet Orchid Fragrance Stages
Tom Ford's Velvet Orchid EDP opens on the skin with all of its top notes, lavished with fresh jasmine and orange blossoms. You can smell just a hint of honey and a touch of woody elements from the base. The most dominant scents are bergamot and jasmine.
As it dries down, honey becomes more prominent, pushing the rum and orange blossoms aside and making way for vanilla, soft orchid and narcissus notes, and a hint of labdanum.
As the citruses, honey, and narcissus notes fade away within the next hour or so, the heliotrope pops out. The rum makes a strong comeback and brings a touch of suede.
In a couple of hours, the sandalwood emerges, beautifully complementing the jasmine, vanilla, and suede elements.
Several more hours in, the perfume starts driving the jasmine to the sidelines until it's fully replaced by labdanum, rum, vanilla, and woody tones with a hint of heliotrope.
Performance
There's rarely something as frustrating as a brilliant fragrance that doesn't last long. You won't experience such problems with these two Tom Ford fragrances, as both have quite long-lasting effects.
Depending on your skin type, the soft Black Velvet can last up to 12 hours, while the sleek Black Orchid can last even longer - up to 14 hours. If you wear them at night, they can easily last you into the next day.
How to Wear These Fragrances
Because Black Orchid is heavy, dark, and musky, it might be best to wear it at night. It can be an ideal choice for any special occasion or a fun night out. If you ask us, it can superbly compliment your little black dress, an evening gown, or any kind of bold outfit.
Velvet Orchid is light, soft, and gentle, which is why it might be perfect to wear during the day. The moment you smell it, you'll think of warm days, summer dresses, and flowery meadows.
Of course, maybe Black Orchid becomes your signature fragrance to wear daily, while you may choose to wear its lighter version to work. It all depends on your personal style and taste.
Other Points to Consider
The only detail left to address in this Tom Ford Black Orchid vs. Velvet Orchid comparison is the price.
If any of these perfumes turn out to be your signature fragrance, you may not care about the price at all. But as designer perfumes go, these two are among the more affordable ones. The Velvet Orchid perfume is just a bit more expensive than its older sibling.
Tom Ford Black Orchid vs. Velvet Orchid: Which One Is Right for You?
You could spend hours reading about a particular perfume, but nothing beats trying it on and feeling it on your skin.
But if you already know which of these magnificent fragrances speaks best to your personality and style, you're in luck! We offer both Tom Ford Black Orchid and Tom Ford Velvet Orchid right here at My Perfume Shop.
We offer many other women's fragrances as well, so check out our wide selection of luxury and niche brand perfumes today.