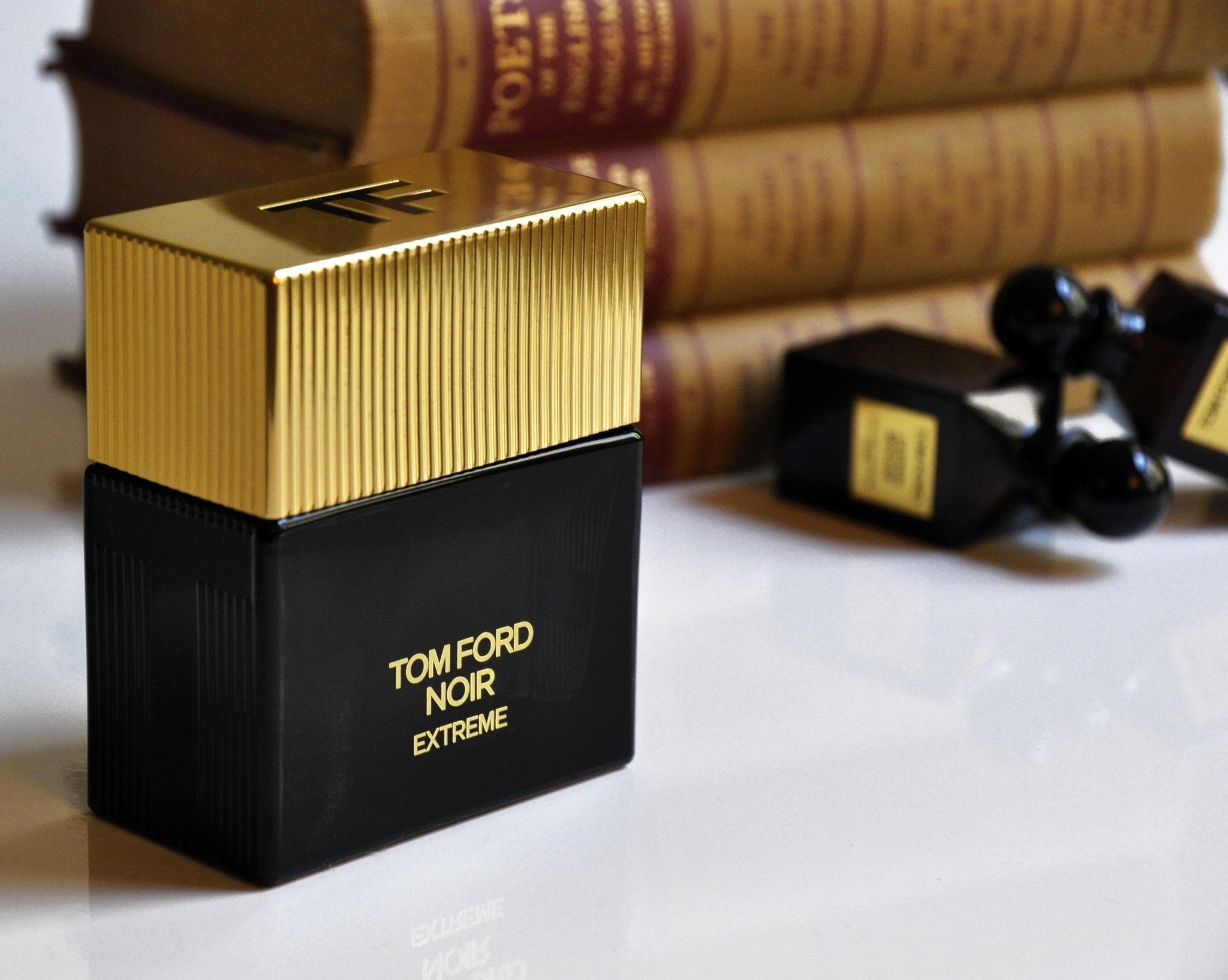 TOM FORD Noir vs. Noir Extreme: What's the Difference?
If you're looking for a classic, luxury fragrance that instills you with confidence and gives you an irresistible presence, you can't go wrong with any of the fragrances in Tom Ford's Noir family. The signature Noir men's line is rich, opulent, and seductive. It introduces powerful fragrances that are perfect for the modern gentleman. 
The original Tom Ford Noir wowed the perfume industry when it was first released in 2012. It's a fan-favourite fragrance that quickly became Mr. Ford's signature cologne, offering a perfect blend of spicy and woody scents that are complex, enigmatic, and sophisticated. 
Only a few short years after Noir hit the scene, Noir Extreme edition was introduced. Milky and citrusy, musky and sweet, Noir Extreme is designed for a man who "relishes in immoderation and dares to be extraordinary." 
Both fragrances are luxurious and overpowering, and both can quickly become your next go-to colognes. But in the battle of Tom Ford Noir vs. Noir Extreme, which one is the perfect scent for you? Take a look at this thorough Noir vs. Noir Extreme comparison to find out. 
| | | |
| --- | --- | --- |
|   | Tom Ford Noir |  Tom Ford Noir Extreme |
| Release Date |  Launched in 2012 | Launched in 2015 |
|  Key Difference | A Deeper scent of amber, leather, and sandalwood | More Opulent and well rounded, with a sweet and spicy scent |
| Performance | Lasts for up to 4 to 5 hours | Lasts for up to 5 to 6 hours  |
| Key Notes | Nutmeg, Black Pepper and Geranium  | Cardamom, Mandarine and Amber  |
Key Notes
Just looking at the names, it would be easy to conclude that Noir Extreme is simply a more potent version of the original Noir, but that's not at all the case. While the two fragrances do share a few ingredients, they're quite distinct and carry different notes. 
Tom Ford Noir was designed to capture the essence of the modern man's dual persona – his outer, sophisticated urban aspect and his private, sensual nature. According to Mr. Ford, Noir is "perhaps [his] most personal fragrance yet." 
When you first open the bottle, you'll be surprised by just how powdery and even dusty the Noir is. It immediately cuts through the air, providing simultaneously oriental and crisp scent. You'll first be hit by notes of bright bergamot and lemon verbena, with hints of pink pepper. 
The deeper, richer nutmeg and black pepper nose springs up as the fragrance sets on your skin. A few minutes after the application, you'll sense the spicy geranium and herbal clary sage combined with the creamy Tuscany iris and Bulgarian rose. 
At the very base, you'll finally start to get the overpowering scent of deep amber, musky patchouli, masculine leather, and the sweet, sweet vanilla. 
Tom Ford Noir is the perfect men's fragrance that can't but get noticed even after the tiniest spritz. 
What does Tom Ford Noir smell like? 
Tom Ford Noir Extreme gives a brand new dimension to the Noir man. It's for the bold, sophisticated, intense gentleman who knows what he wants and isn't afraid to be at the center of attention wherever he goes.
It's a genuinely extraordinary cologne.
Fragrance Breakdown

| | |
| --- | --- |
|  Top Notes | Cardamom, Mandarine and Amber  |
|  Heart  Notes  | Nutmeg, Black Pepper, Sage, Geranium, Tuscany Iris and Bulgarian Rose  |
|  Base Notes | Patchouli, Leather, Vanilla, Amber, Vetiver and Benzoin |
Dramatic, elegant, and magnetic, it's the perfect blend of the most sensual fragrances. It's dark and woody, warm and smooth, and most certainly your next go-to fragrance. 
What does Tom Ford Noir Extreme smell like?
Noir Extreme opens with the rich cinnamon and spicy cardamom, and carries hints of luxurious saffron. It brings an air of elegance and sophistication. 
As you get used to the scent, you'll start noticing Noir Extreme's heart notes – refreshing orange blossoms, sweet rose, and peppery mastic. As the fragrance intensifies with your body temperature, Noir Extreme starts releasing the deeper, more powerful undertones of amber and sandalwood, vanilla, and nutmeg. 
Fragrance Breakdown

| | |
| --- | --- |
|  Top Notes | Cinnamon, Saffron and Cardamom |
|  Heart  Notes  | Mandarin, Orange, Rose, Mastic, Jasmine, Neroli and Kulfi  |
|  Base Notes | Amber, Sandalwood, Vanilla and Nutmeg  |
Noir Extreme is nothing short of dramatic. It engages all your senses and gives you a timeless appeal that you'll love. 
How long do they last? 
Although they're very different colognes, they come out as equals when it comes to the Tom Ford Noir vs. Noir Extreme performance. Both are prestigious fragrances made of high-quality ingredients that linger on for hours. You can expect both Noir and Noir Extreme to remain noticeable for up to eight hours. 
Since they're packed with essential oils, they stick directly to your skin and keep exuding opulent scents that fill the room. 
What makes these fragrances so extraordinary is that they transform as you wear them. As the colognes mix with your natural body chemistry, they evolve and bring new depths to the overall scent that somehow gets better the longer you wear them. 
How Best to Wear Them
How Tom Ford Noir and Noir Extreme perform depends entirely on how you apply and wear them. The rich, oriental Tom Ford Noir is best applied on the wrists.
Avoid dabbing or rubbing the fragrance after applying it, as it will only cause the scent to wear off more quickly. Also, keep in mind that you'll likely have to reapply Noir if you wash your hands frequently. 
Considering the Tom Ford Noir's depth and richness, you might want to reserve this fragrance for the colder months of the year. It can be quite overpowering in the summer. 
Noir Extreme is more spicy and refreshing, and if you want to enhance its scent, you might be best off applying it on the creases of your skin – on the inside of your elbows and knees. The scent intensifies with your body temperature, so applying Noir Extreme like this will ensure it remains potent and enchanting. 
Just like the original Noir, Noir Extreme is best reserved for special occasions during the colder months. However, since it carries some crisper notes, it can be ideal in spring or early autumn. 
Other Points to Consider 
Tom Ford Noir and Noir Extreme are decidedly masculine fragrances that sit perfectly on any gentleman who has a flair for the dramatic. However, as both carry sweeter notes of vanilla and rose that certainly make their presence known, both can be worn as unisex perfumes that suit powerful ladies who prefer more unique fragrances. 
Which One Is Right for You? 
In the battle of Tom Ford Noir vs. Noir Extreme, there's no clear winner. It all depends on your style and preferences. Both fragrances are elegant and sensual, and both can help you make the right impression as soon as you enter the room. 
If you prefer the deeper scent of amber, leather, and sandalwood, order Tom Ford Noir – it's a recognisable classic that you'll fall in love with.  
On the other hand, if you prefer a more dramatic, spicy scent of saffron, cinnamon, and neroli, go for the Tom Ford Noir Extreme. It's a unique fragrance, relatively uncommon and noticeable.